Capsize for Blum Magazine { Hudson Valley Model Photographer }
August 16th 2021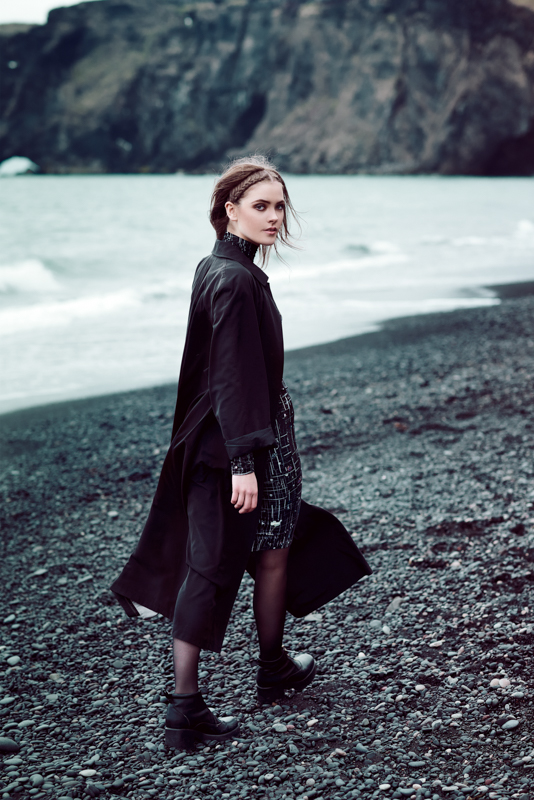 ---
First off if you're looking for a Módní Photographer check out my portfolio.  I'd of course love to put together your perfect shoot.
So of course I was super happy to be out in Iceland to go and get married, and let me tell you it was a perfect day, but while we were there, of course we had to put together a few shoots.  So this editorial was all shot in Iceland.  Honestly, if you would have told me a few years ago that I would be shooting a whole editorial in Iceland, I'm not sure I would have believed you.  Frankly, it's crazy how much life has changed in recent months.  I'm now married, living in Hudson Valley, staying in zagreb while our visa's are approved, and just generally enjoying my life these days.  I think most people have these stories of how they turned a rejection into a success, and I feel like I'm no different.  I remember a long time ago talking to my ex wife about some recent shoot I had done, and made some comment like "
man, I love being a fashion photographer",… her response: "Yeah, but you're not a Módní Photographer".  Let me tell that has really stuck with me.  There were many moments in that relationship that just didn't work for me, but that one was especially cutting.  So now I'm travelling the world, shooting in all these foreign countries, and I'm really happy with how far I've come.  I still have a long way to go, and god knows there's been a ton of people that have helped me along the way, and without them I wouldn't be where I am today.  But it feels really good to know that the hard work is paying off.
It's funny Lynzi and I were talking today, and as a testament to how far we've come, it was really funny to have a nice sit down chat with the CEO of one of the agencies here in Zagreb.  It felt great to work with an agent that was in a real market, and has clearly built an agency from the ground up, and is both a business man, and an architect of a great agency.  It was also cool to feel like our work garnered respect from someone like that.  I was talking to Lynzi about how funny it is to think back to pulling models from model mayhem, and how consistently flakey they were.  It's been a really long time since a model has flaked on me.
Now onto this shoot.  We basically drove all over the island to put this editorial together.  Lynzi did a fantastic job of styling for my shoot, and without her these shots would not have come out as well as they did.  Honestly, I don't think people really realize how much of a team effort Módní Photographer is.  It's all about the team, and the shoot is only as good as the weakest link.  I also loved the viking hair I got for this shoot from Katrin Sif, who's an amazing hair stylist in Iceland.  Lynzi and I actually shot both of our editorials at the same time while we were driving, so it was a really fun day, with 2 models, and a makeup artist in the car, laughing and joking around the whole day.  By the end of it though we were pretty tuckered.  Luckily, that's when the car broke down.  So we had to wait another 3 hours to have the rental agency come pick us up.
For most of the shoot I really wanted to capture the wasteland that is Iceland.  The place is indescribably beautiful.  In a way you've never seen before.  There's huge swaths of land that basically look like mars.  It's wild, and I've never seen anything like it before.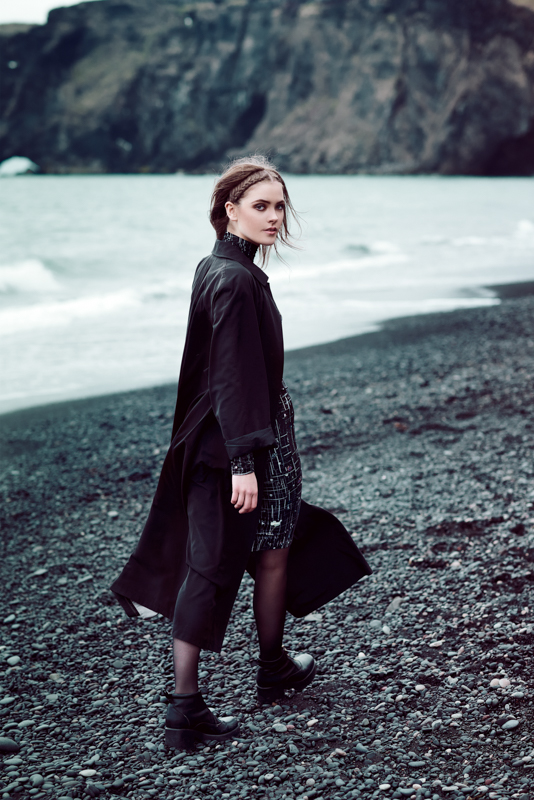 This was shot on the black beaches.  I couldn't get over how cool they looked.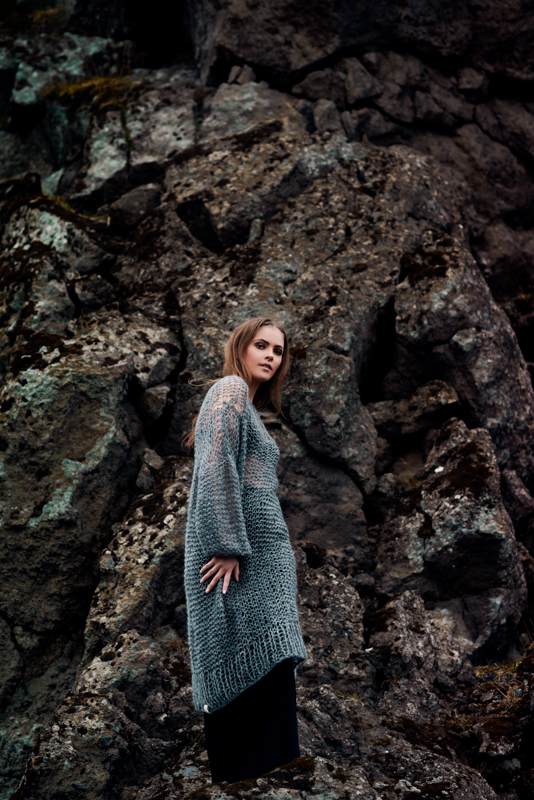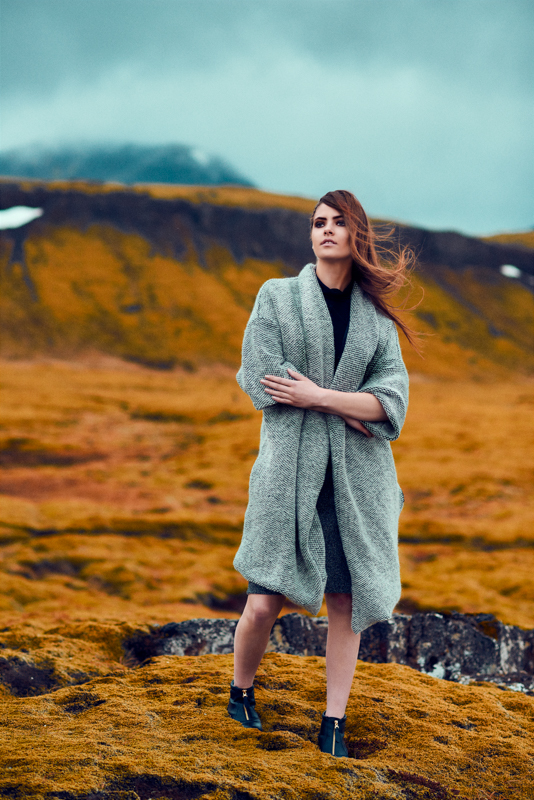 These 2 shots are probably my favorite shots I've taken in a while.  The ground isn't really that color, but because it was so shady I was able to retain so much color detail that it was easy for me to shift the colors where I wanted them.  I also adored these coats that Lynzi picked for the shoot.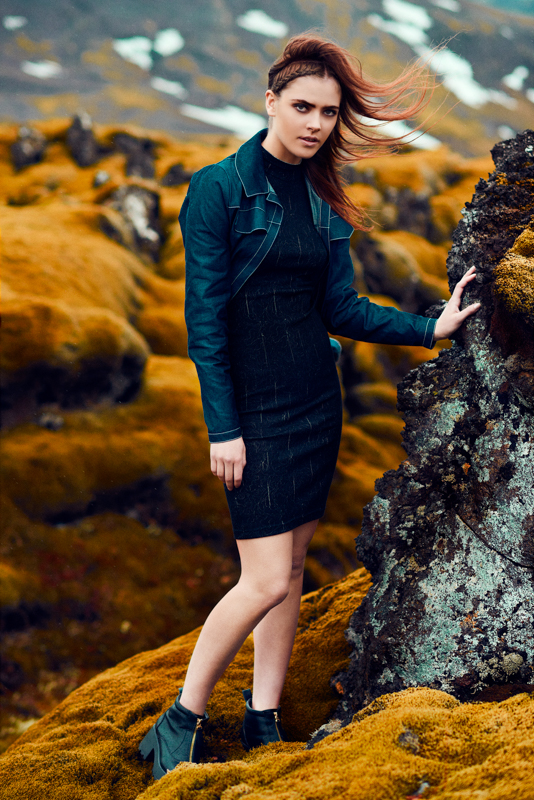 By far my favorite shot of the great model I had Vala.  It just sounds viking doesn't it. :)